You can visit the Silver Hill website through this link:
www.silverhillduck.ie

All Content Copyright emyvale.net
Silver Hill Duck the star of the show at the Great Taste
Awards 2020
Great Taste, the world's most trusted food and drink awards and
known as the Oscars of the food industry, has announced its
stars of 2020. Out of 12,777 products sent in from 106 different
countries, Silver Hill Duck in Emyvale, Co. Monaghan has been
awarded an outstanding total of 11 Gold Stars across 7 different
products including their Whole Duck, Duck Fillets & Confit Duck
Legs.
Judged by 144 of the most discerning palates, belonging to food
critics, chefs, cooks, restaurateurs, buyers, retailers and
producers, as well as food writers and journalists, Great Taste is
the most coveted of all food and drink awards. As well as a
badge of honour, the unmistakeable black and gold Great Taste
label is a signpost to an outstanding product, which has been
discovered through hours and hours of blind tasting.
Greg Devlin, Marketing Manager for
Silver Hill Duck, explains: "2020 has
been an extremely challenging year for
all food suppliers but it was certainly a
high point to have our most successful
year ever at the Great Taste Awards.
The achievement of 11 Gold Stars is
great recognition and a further
testament to our unwavering
commitment to quality. Collectively all
of our team are proud, honoured and
motivated to continue bringing the
famous
Silver Hill Duck to markets near & far
from our home in Emyvale, Co.
Monaghan.
Great Taste 2020 will reach its exciting
finale in late October, when the Golden
Fork trophy winners and the Great
Taste Supreme Champion 2020 are
announced at the virtual Great Taste
Golden Fork awards event.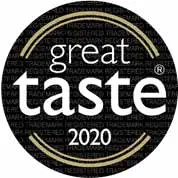 Silver Hill Duck leads the way sustainably as they receive inaugural Origin
Green Gold Membership.
Last Thursday November 19th, Silver Hill Duck in Emyvale, Co. Monaghan
joined 25 other leading food and drink business from around Ireland who
were awarded the prestigious title of being an Origin Green Gold Member.
The title was awarded to the premium duck producer in recognition of
their efforts to excel in sustainable food production.
Companies eligible for Gold Membership have demonstrated an overall
exceptional performance within a given year. In the past, all Origin Green
member companies were given the designation of being a 'verified
member'; but this is a broad categorization in a large cohort and does not
reflect the ambition of the selected companies who are making significant
strides in their sustainability efforts.
Denise Jordon, Environmental Manager for Silver Hill Duck stated "We are
very proud of our history of sustainability and we recognise the
importance sustainability plays in our business today and for the next
generation. We take pride in the fact that we utilise every part of the duck
through our various sales channels, including Offal, Fat, and

Feathers to
make Duvets and Pillows". Origin Green is a badge we proudly
showcase internationally. Our customers want Peking Duck
that is produced sustainably and the Origin Green Gold stamp
authenticates the great efforts at Silver Hill to consistently do
just that.
Speaking at the event itself, Tara McCarthy, Bord Bia CEO said
"Origin Green Gold Membership is about recognising those
companies who, each year, make a significant individual stride
in sustainability – who provide a best-in-class environmental
performance that deserves to be highlighted and celebrated –
and who have a story to tell that excites consumers and can
be an inspiration and role model for their peers. Silver Hill
Duck is one of these companies."
Silver Hill currently employ 240 staff across all of their sites
and export premium duck and duck products to 24 countries in
Europe, South East Asia and the Middle East. Their exclusive
Silver Hill Duck breed is an annual award winner for its taste
and quality and last year the company also won the highly
acclaimed 'Bord Bia Exporter Of The Year".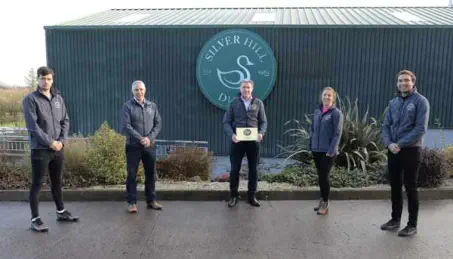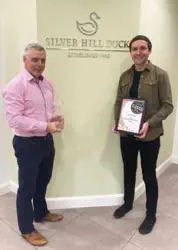 Silver Hill Duck the star of the show at the Irish Quality Food
Awards
Celebrating and rewarding the finest food and drink products on Irish
shelves, Silver Hill Duck has again come up trumps at the Irish Quality
Food and Drink Awards, adding to its recent wins from earlier this year in
the Great Taste and Blas na hÉireann Awards.
Silver Hill Duck achieved an amazing clean sweep in the Meat-Game
Category, winning gold, silver & bronze for their in demand retail products.
The awards were announced at a virtual ceremony last week with all
products going through a rigorous judging process with a panel of 200
independent judges evaluating each product.
The accolades didn't stop there as the Emyvale based company was then
announced as the winner of the main award of the night, overall Supplier
of the Year. The panel of judges praised Silver Hill Duck's evolution within
the past year and their strong ambition for future growth despite obvious
global challenges.
Silver Hill Managing Director Micheál Briody stated 'To win Supplier of the
Year whilst navigating through Covid, Brexit, Supply Chain Crises,
Commodity Inflation and the Avian Flu threat might be the most fulfilling
award we have ever won. Ultimately we can only be judged by our
customers and Supplier of the Year is a true reflection and a fitting
testimonial to the brilliant work being done every day by all of our team at
Silver Hill Duck"

.